Introducing the DFF Gala App Powered by Flybits!
A mobile experience you won't want to miss, celebrating a cause you'll never forget.
We are thrilled to announce that the David Foster Foundation has teamed up with Flybits Inc. to deliver an innovative technology component to our Miracle Gala & Concert on September, 26, 2015.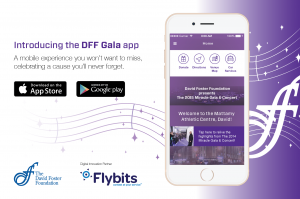 Learn about this year's artists, live auction items, car service, venue map, live voting, Red Carpet highlights, Sponsor a Family campaign, live donation count and much, much more!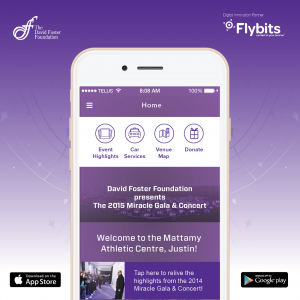 "We wanted to bring in a technology component to our Miracle Gala & Concert this year. This is why we partnered up with Flybits to develop an interactive and engaging social experience for our gala. We were looking for another way that we could interact and engage with our guests by enhancing their overall experience. This app does just that… it will allow our guests to see what it is like to be behind the scenes, real time, at one of the biggest fundraising events in Canada!" – Mike Ravenhill Chief Executive Officer David Foster Foundation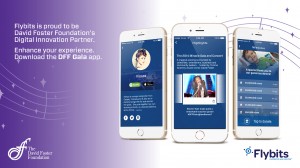 Available On
Flybits puts Context at Your Service™ so you can transform your mobile apps from one-size-fits-all to personalized, from stale to fresh, from a cost to a competitive advantage.
Download on the App Store:
1. Search "DFF Gala" on the App Store.
2. Select "Get," "Install," and "Open." 
3. Provide your first name, email, and a password to register. 
Download on Google Play:
1. Search and install "DFF Gala" on Google Play.
2. Accept App permissions.
3. Provide your first name, email, and a password to register. 
About Flybits Inc.
Flybits is the only context-as-a-service solution, providing instant access in the cloud to everything needed to transform mobile experiences from generic and static to personalized and dynamic. Flybits is the easiest way for iOS and Android developers to integrate and use multiple sources of contextual information – from location to social profiles, user behavior and preferences, environmental data, and beyond. Flybits lets marketing people and other non-coders change an app's content and behavior on the fly, as they refine their mobile Internet strategies. Using Flybits brings faster time-to-market, unprecedented agility, lower development cost, higher consumer engagement and satisfaction, and increased brand value. For more information, please visit flybits.com and follow us at @FlybitsInc.